A Former Non-SDA Pastor's Story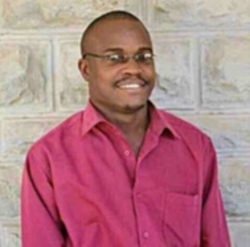 My name is Isaya Mwita, I was born on 28th August 1984 at Mara region in T anzania. Am married with two children and am an orphan. I got interested in pastoral work in 2006. Between 2007 and 2010 I went to Uganda to train with Deaf Ministries International (DMI) and DOOR – Kenya. For the past 6 months, my life has changed very much. It started with meeting Filbert - a brother who has been working with deaf Adventists and non-Adventists.
I started attending Adventist meetings for the Deaf with Filbert. The things I learnt made me want to learn more and more about the Seventh-day Adventist Church, the Sabbath, and about salvation etc. In August I was invited to the Camp in Kenya where I met so many other Deaf Adventists....I was baptized and I am now working with Filbert, learning more and more. It has not been easy – with criticism from my former Sunday church colleagues etc., but I am praying to remain strong in my new faith and that my wife will be baptized, too. I have a great desire to be an Adventist Deaf pastor for the Deaf or a Gospel Outreach worker.
[Story edited from Isaya's account]
Dar es Salaam, Tanzania
*Source from Gospel Outreach Deaf Department